Tricia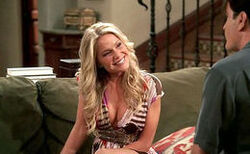 Tricia
was the fiancée of Jeremy, Angie's son, after she broke up with him because she was still in love with
Charlie
(because he and her were dating previously). She was played by
Virginia Williams
.
History
She first appeared in the season 5 finale "Waiting for the Right Snapper" when Angie tells to Charlie that Jeremy is getting married to a woman, Tricia (who formerly dated Charlie). After a day, she went to Charlie's house to talk with him because she and Jeremy discussed and also she wanted to go see him. Alan says seize the opportunity to be with this woman because she is very young and beautiful. But Charlie refuses, because she's with Angie. But when he go to Angie's house, she broke up with him because by her son, Tricia and Jeremy broke up his fault. Charlie tries to defend himself by saying he has not done anything, but Angie does not believe it and ends their relationship.
Ad blocker interference detected!
Wikia is a free-to-use site that makes money from advertising. We have a modified experience for viewers using ad blockers

Wikia is not accessible if you've made further modifications. Remove the custom ad blocker rule(s) and the page will load as expected.