I want to go now! I want to see Ed!

Tom
Tom Melini
is the father of
Chelsea
, ex-husband of
Martha
Melini and the boyfriend of
Edward Boyton
. After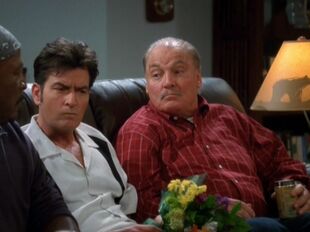 learning he was truly a homosexual and that he had feelings for a man named Edward Boyton, he payed a visit to his old Army friend Edward and reconnected with him with the help of Charlie and Alan. Afterwards, he came out of the closet to his daughter Chelsea who was receptive of the news but was left reeling from her parent's break-up as Tom filed for divorce from his ant-semetic homophobic racist wife Martha who was really enraged at the news. He is portrayed by actor Stacy Keach.
Biography
Early life
Yay, No Polyps!
Tinkle Like A Princess
Instead of hanging around for more analogies, Charlie heads to find Chelsea at her dad's house, where he walks in on the dad and his boyfriend in the middle of a little spat over decorating. Although obviously uncomfortable, he waits it out until Chelsea comes home. When she arrives, Charlie tells her how much he misses her and basically begs her to take him back, vowing that he can change. For her part, Chelsea realizes that she shouldn't have tried to change him and wants to take some time to figure out what she wants. They say an awkward goodbye
I Found Your Mustache
After Charlie and Chelsea have a one night stand, he believes they're on the path to reconciling but Chelsea tells him that what happened between them doesn't change the way things ended between them and leaves. Distraught, Charlie tries to bring her flowers, but she's absent and Tom and his boyfriend Edward offer advice to appear in control, not needy. The situation puts strain on the fraternal bond, yet proves it's stronger than Charlie admitted before.
This Is Not Gonna End Well
As Alan brings ice and supplements to Chelsea's birthday party, Tom and Edward are seen helping with the preparations as well as dealing with a few awkward conversations with Alan Harper. After which, they're seen engaging in pubic displays of affection such as sharing a loving hug together while Chelsea and Alan watch and Alan asks Chelsea if she ever thinks of them having sex together, leading Chelseas to be a little confused and uneasy. After this, Tom and his boyfriend Edward are seen among the rest of the party guests wishing Chelsea a happy birthday as Jake gives her the birthday present that Charlie meant to give her but couldn't give it to her himself.
Relationships
Gallery
Ad blocker interference detected!
Wikia is a free-to-use site that makes money from advertising. We have a modified experience for viewers using ad blockers

Wikia is not accessible if you've made further modifications. Remove the custom ad blocker rule(s) and the page will load as expected.