Tammy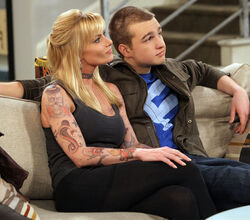 Ashley, what are you doing here?

Tammy to Ashley
History
Tammy is a 36 year old woman with three children who owns Tammy's Tatties and is the ex-girlfriend of Jake Harper and has made out and possibly had sex with Walden Schmidt. 
Despite her appearance, Tammy is a good-hearted woman, who knows how Alan feels about her and her relationship with Jake. They broke up, because Jake had sex with Tammy's daughter, Ashley.
Ad blocker interference detected!
Wikia is a free-to-use site that makes money from advertising. We have a modified experience for viewers using ad blockers

Wikia is not accessible if you've made further modifications. Remove the custom ad blocker rule(s) and the page will load as expected.