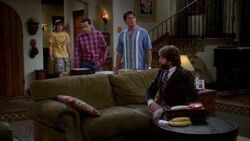 Stu is a minor character shown in an unnamed episode of Two and a Half Men seen in Due Date. He is portrayed by Ethan Tremblay (Zach Galifianakis).
Story
Stu was hired to be a tutor for Jake by Alan. When he shows up, Stu is seen to be an odd man, who smelled of pot. He brought food with him, and Charlie asked him if he had any pot left. Stu replies, "Not for $9 an hour I don't. ... I mean I don't know what you're talking about."
Appearances
Ad blocker interference detected!
Wikia is a free-to-use site that makes money from advertising. We have a modified experience for viewers using ad blockers

Wikia is not accessible if you've made further modifications. Remove the custom ad blocker rule(s) and the page will load as expected.