Sissy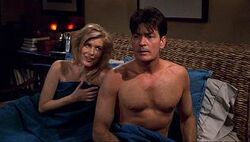 That's not really short, is it?

Sissy, about Charlie's nickname
Season 5
"Dee-Dee" A.K.A Sissy is a young blonde woman Charlie had a one-night stand with after he turned down Alan's plan to fix him up with 40-year-old Judge Linda Harris. At first, he enjoyed his time with her, while "Dee-Dee" complained that her ear is "still a little soggy." Charlie apologized and then asked is "Dee-Dee" her real name and he assumes what her name stands for in sing-songy style. "Dee-Dee" says that's just a nickname and reveals that her real name is "Sissy". Charlie, surprised by her real name, jokes that she probably throws like a girl because of her name. "Dee-Dee", then says, "I'm am a girl". Charlie, realizing how "dumb" she is, reconsiders Alan proposal to double-date with Linda Harris and leaves to tell him. He makes an excuse to leave, but not before "Dee-Dee" asks, "Why, did you fart?
Trivia
She has the personality of the "dumb blonde" stereotype, as evidenced by her repeated confusion and misunderstandings, malapropisms and girlish behavior.
Ad blocker interference detected!
Wikia is a free-to-use site that makes money from advertising. We have a modified experience for viewers using ad blockers

Wikia is not accessible if you've made further modifications. Remove the custom ad blocker rule(s) and the page will load as expected.