Shelly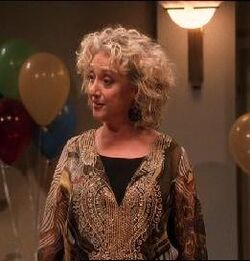 Shelly, portrayed by Carol Kane, is Melissa's aging hippy mother. Shelly has being described by Melissa as not being completely right in the head due to pot use, joking that her mother never really made it home from Woodstock.
History
Melissa lives with her mother, whom apparently used to work at Yellowstone Park but was fired for growing marijuana. Melissa was also born in the Arizona desert, which according to Shelly was a natural child birth, despite the use of pot, peyote buttons and biting down on a rope. Shelly was first seen when Melissa brought her along to Alan's 40th Birthday party, which Melissa invites Alan to live with them. Alan accidentally ate pot infested banana bread and has sex with Shelly, prompting Melissa to kick Alan out and break up with him.
Quotes
He is still one of god's creatures. Give him some water and ultraviolet lights and he will grow into some rightous chronic.-Shelly talking about Jake's intelligence.
Alan, would you be totally weirded out by a little mother-daughter tag-team.-Shelly suggesting a threesome with Alan and Melissa.
Ain't nothing wrong with bedding the boss, that's how i wound up with the little princess here, and half of Black Angus franchis.-Shelly telling Alan and Melissa there's nothing wrong with the workplace romance.
Ad blocker interference detected!
Wikia is a free-to-use site that makes money from advertising. We have a modified experience for viewers using ad blockers

Wikia is not accessible if you've made further modifications. Remove the custom ad blocker rule(s) and the page will load as expected.