Sharon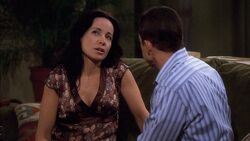 Sharon
is a bipolar women who
Alan Harper
dated in "
Media Room Slash Dungeon
".
History
When she was in a date with Alan, she said that she cannot do it because she was not attracted to him. But Alan told to her that, please, she gave him another opportunity, and they finally had sex. But after that, she started to cry disconsolately about the intercourse she had with Alan. The next day, she go to the Malibu Beach House to apologize to Alan and asked to him he gave her another opportunity. But when Charlie arrived she go away angried telling to Alan that he's a pervert to using her. In the final scene of the episode, Charlie and Alan saw from the terrace that she were bathing on the beach fully clothed and Alan go to help her. Charlie asked to him that he asked to her if she's got a friend. It is unknown what happened later.
Ad blocker interference detected!
Wikia is a free-to-use site that makes money from advertising. We have a modified experience for viewers using ad blockers

Wikia is not accessible if you've made further modifications. Remove the custom ad blocker rule(s) and the page will load as expected.