Not to be confused with Robin Schmidt, Walden's mother.
Robin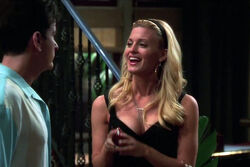 Robin was Charlie's girlfriend in "Young People Have Phlegm Too".
History
In the season 4 episode Young People Have Phlegm Too, she appeared as Charlie's one night stand. Later, she invited Charlie to go to a party and Charlie invited Alan too. When they were in the party, she and her friend entered but the doorman doesn't let Charlie and Alan in. She asked the doorman to let them in, because they were with her. When the brothers returned home, they revealed that they didn't have a good time at the party.
Trivia
Ad blocker interference detected!
Wikia is a free-to-use site that makes money from advertising. We have a modified experience for viewers using ad blockers

Wikia is not accessible if you've made further modifications. Remove the custom ad blocker rule(s) and the page will load as expected.