Nina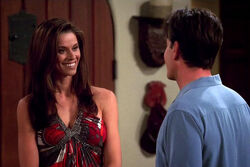 Nina is a minor character in the Season 5 episode, "The Leather Gear Is in the Guest Room". She first seen falling for Charlie, though he hoped to sleep with her but she leaves when he blurts out to Alan that she's "Just some one-night stand I picked up at a bar" and before leaving, she says the worst part was that she actually believed the things Charlie said to her.
Ad blocker interference detected!
Wikia is a free-to-use site that makes money from advertising. We have a modified experience for viewers using ad blockers

Wikia is not accessible if you've made further modifications. Remove the custom ad blocker rule(s) and the page will load as expected.