Naomi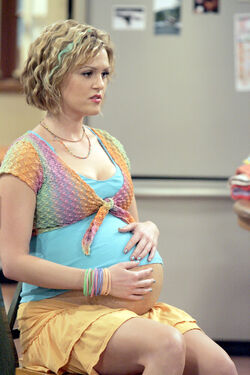 Why didn't you call me?

Naomi to Hector
Naomi
is
Berta
's daughter and
Brittany Pam
's mother. She is described by Berta as "a little angel who swooped down from Heaven and landed on a married rich man's penis".
History
When Berta introduces Naomi to Charlie and Alan, she's known to her mother as the pride of her life, and that when she got pregnant and lost her job, she had to move in with her mother for support. It's revealed she was fired from her last job, not only for being pregnant, but for stealing a "few" office supplies (eight computers and a xerox machine).
During her pregnancy, she shows a strong attraction to Alan and kisses him. Shortly afterwards, she goes into labor and gives birth to Brittany Pam. After giving birth, she decides to secretly date Alan Harper, since the two had remained in touch and fallen for one another.
Naomi and Alan sneak around to date at first, which frustrates Berta as she's left looking after Brittany Pam. When Berta finds out, she's happy about the outcome, since Alan is the best Naomi's ever had.
Naomi invites Alan and his family to have dinner with her and Berta at Berta's house, which Alan reluctantly agrees to. Unfortunately for Alan, Brittany Pam's biological father Hector arrives and Naomi leaves Alan for Hector.
Appearances