What's going on?

Ms. McMartin
Ms. McMartin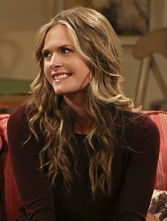 Ms. McMartin is a social worker/recurring character on the final season of Two and a Half Men.
Ms. McMartin is assigned as a social worker to Walden Schmidt and Alan Harper after they marry due to Walden's wish to adopt a child. Impressed with their lifestyle, she first prepares them for a baby boy whose mother cannot raise him, but after the mother changes her mind, she assigns them a 6-year-old African-American boy, Louis. However, she later discovers their deception and moves to have Louis removed from the house. Alan attempts to change her mind and they end up sleeping together. Upon seeing how comfortable Louis is with Walden and Alan, Ms. McMartin decides not to take him away on the condition that they stop lying.
She continues her relationship with Alan, but soon finds out about his unfinished relationship with Lyndsey McElroy, sending her over the edge and prompting her to do a "surprise" inspection in the middle of the night, spitefully naming all sorts of flaws in the house before leaving, hinting that she might not have them approved to adopt Louis after all. Walden goes to her apartment to make amends, and she breaks down, confessing her bad luck with relationships. As Walden tries to comfort her, she kisses him and they end up having sex, which leads to her quickly falling in love with Walden. Though she approves Walden to adopt Louis, she briefly hesitates, fearing that Walden will break up with her afterwards. When Walden confesses that he believes they are not right for each other, Ms. McMartin has them approved and amiably leaves Walden. Walden, however, realizes that he turned down the one woman who truly loved him for who he is, rushes to her apartment to ask for another chance. After being serenaded by Michael Bolton, she accepts and they resume their relationship.
Ms. McMartin later appears in Walden's vision of the future of his 50th birthday, in which she and Walden are married, but she runs off with a still-young Michael Bolton.
Trivia
She has five cats.
She dated Alan Harper and later Walden Schmidt.
She is Walden's final girlfriend seen in the series. As Walden clearly imagines them married in the future, it is possible he settled down with her sometime after the series' finale. It is unknown.
One of the show's producers during series 11 was Susan McMartin.
Gallery
Appearances