Mindy Schmidt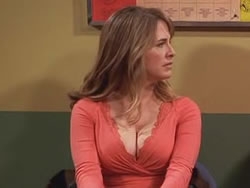 Mindy Schmidt is the mother of Barbra Schmidt.
History
She appeared in the episode "Principal Gallagher's Lesbian Lover". After Jake insulted her daughter Barbara for the size of her boobs, he was punished and Alan had to go to Jake's school to talk with principal Gallagher. When Alan was waiting, arrived Barbara's mother, who also had to talk with principal Gallagher. Alan noted quickly that she was her mother for its "resemblance". He was all the time trying to seem sympathetic but he was always looking at her breasts.
Trivia
Both Mindy Schmidt and her daughter are picked on and stared at for their big boobs.
Both Mindy and her daughter have been stared at/ harassed by Jake and Alan Harper.
Due to no mention of a spouse, it's unknown if Mindy Schmidt's widowed, divorced or a single mother.
It's unknown if Mindy and Barbara Schmidt are related to Walden Schmidt, due to sharing the last name.
Ad blocker interference detected!
Wikia is a free-to-use site that makes money from advertising. We have a modified experience for viewers using ad blockers

Wikia is not accessible if you've made further modifications. Remove the custom ad blocker rule(s) and the page will load as expected.