Megan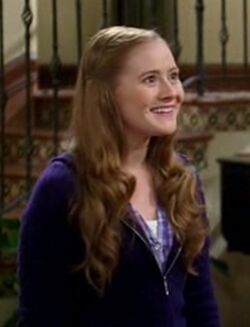 Megan, played by Macey Cruthird, is Jake's tutor and girlfriend.
History
She makes her first appearance in "Springtime on a Stick" watching a movie with Jake. However a drunk Charlie comes in and ruins Jake's chances. Jake ends up getting revenge on Charlie by inviting Evelyn over for dinner.
She makes her second appearance in "Those Fancy Japanese Toilets" after Charlie's death. She is very attracted towards Charlie's successor in the Harper Household Walden and tries to make excuses to go with him furniture shopping. When she meets Walden for the second time she gets turned on too much and ends up having sex with Jake.
In "Frodo's Headshots" she is (kinda) pregnant but is later revealed in the episode to be Alan's dream. It is also revealed she never actually had sex with Jake, he just hit third base.
Ad blocker interference detected!
Wikia is a free-to-use site that makes money from advertising. We have a modified experience for viewers using ad blockers

Wikia is not accessible if you've made further modifications. Remove the custom ad blocker rule(s) and the page will load as expected.