Martha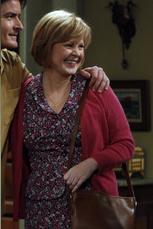 Martha is Chelsea's mother and ex-wife of Tom.
Martha is a stereotypical homophobic racist, Republican white supremacist, as well as her husband Tom (portrayed by guest star Stacy Keach), who later reveals having a long-time passion for his fellow Navy Server and friend Edward Boyton who also turned out be a black man. He then leaves Martha for him, much to her dismay.
Trivia
It is revealed by Rose, in the episode, "Above Exalted Cyclops," that's she's an honorary Kleagle in the Ku Klax Klan.