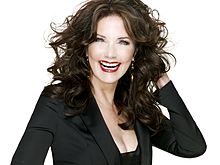 Über ihr Leben
Carter was born in Phoenix, Arizona. She is of English, Mexican, Irish descent. Carter made her public television debut on Lew King's Talent Show at age 5. During high school, Carter performed in a band called Just Us, consisting of a marimba, a conga drum, an acoustic guitar, and a stand-up bass played by another girl. When she was 17, she joined two of her cousins in another band called The Relatives. Actor Gary Bu was the drummer. The group opened at the Sahara Hotel and Casino lounge in Las Vegas for three months; because Carter was under 21, she had to enter through the kitchen.
Character
She played herself on the show. She knew the Schmidts and had seen Walden growing up. She expresses interest in Walden, but ends up having a threesome with Jenny and Robin.
Beziehungen:
Walden Schmidt (Kuss und Interesse)
Dreier mit (Jenny Harper und Robin Schmidt)
Sexualität:
Bisexuell (vermutlich derzeit)
Infos
Lynda Carter ist einer der LGBT-Charakter denn sie ist Bisexuell.
Lynda Carter hat in Staffel 11 Folge 6 einen Dreier mit (Jenny Harper und Robin Schmidt)
Lynda Carter hat zu gegeben das sie mit Walden Schmidt zusammen sein will und hat im geküsst.
Sie ist Bisexuell, weil sie einen Dreier mit (Jenny Harper und Robin Schmidt) gehabt hat und weil sie in Walden Schmidt verknallt ist. Das bedeutet dass sie auf Männer und Frauen steht.
Sie hat zum Abschied länger Jenny Harper geküsst.
Sie hat vielleicht auch Gefühle für Jenny Harper aber das wurde nie bestätigt.