Louis Schmidt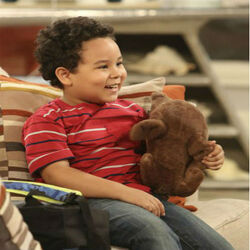 Also known as

Louis Harper
Louis Schmidt-Harper

Louis Schmidt is Walden and Alan's adopted child. He appears in Season 12. He is 6 years old.
Appearance
Louis is a foster kid who is 6 years old.
Personality
Biography
TBA
Season 12
TBA
Appearances
Relationships
Louis seems to have mixed feelings for Walden, but must like him an extent because he was very excited to find out he was moving in. They got off on the wrong foot, but they became good friends and Walden became a great father.
Despite his flaws that everyone else sees, Louis thinks Alan is the "cool" parent.
Louis and Berta get along well, Berta shared her past experiences of being in the foster care system with Louis, and Louis admits to liking her and she is funny.
Trivia
Ad blocker interference detected!
Wikia is a free-to-use site that makes money from advertising. We have a modified experience for viewers using ad blockers

Wikia is not accessible if you've made further modifications. Remove the custom ad blocker rule(s) and the page will load as expected.