Leanne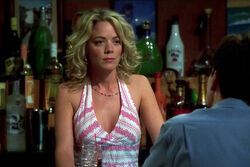 Leanne
is a bartender at
Pavlov's
. She used to give advice to
Charlie
and it is suggested she has had occasional flings with him. She got her life together after she woke up one morning in Charlie's bed with the cab fare taped to her head. She now gives advice to
Walden
and usually ignores
Alan
.
Appearances
Quotes
Leanne: What can I get you?
Rose: Grain alcohol, please.
Leanne: We don't have grain alcohol.
Rose: Okay, uh, just a Sprite.
Ad blocker interference detected!
Wikia is a free-to-use site that makes money from advertising. We have a modified experience for viewers using ad blockers

Wikia is not accessible if you've made further modifications. Remove the custom ad blocker rule(s) and the page will load as expected.