Laura Lang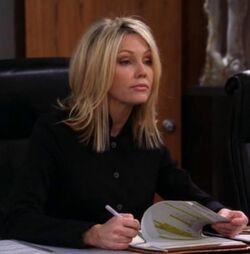 Profession
Divorce Attorney
Laura Lang was Alan's attorney for his divorce settlement, until Charlie screwed up their relationship by sleeping with her. Laura made Charlie promise that he would be available for sex with her anytime she wanted. When Charlie broke the promise, Laura took revenge by screwing up Alan's divorce settlement with Judith, though Alan fired her, temporarily nullifying her decisions.
He action against Alan is mostly unreasonable since Alan is totally innocent while she should have screw up Charlie instead.
Appearances
Ad blocker interference detected!
Wikia is a free-to-use site that makes money from advertising. We have a modified experience for viewers using ad blockers

Wikia is not accessible if you've made further modifications. Remove the custom ad blocker rule(s) and the page will load as expected.