I did call. Didn't your

mother

give you my messages?

Hector to Naomi
Hector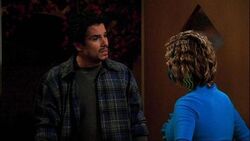 Hector is love interest of Naomi.
During the dinner, Brittany Pam's father Hector arrives. Naomi asks him why he's arrived in the first place, claiming that he ran away. Hector reveals that he wanted to come home to see Namoi and Brittany Pam, because he just couldn't get back across the border, that "they've been cracking down because of these damn Arabs." Naomi asks why didn't he call her, Hector says he did call but Berta didn't give Naomi his messages. Hector says he misses her and Naomi leaves Alan for him, which Alan toasts. The next morning, Charlie wakes up to find Berta in his bed again, who tells him that Hector's entire family arrived to see the baby.
Ad blocker interference detected!
Wikia is a free-to-use site that makes money from advertising. We have a modified experience for viewers using ad blockers

Wikia is not accessible if you've made further modifications. Remove the custom ad blocker rule(s) and the page will load as expected.