Harry Luther Gorsky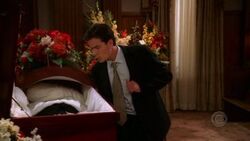 Harry Luther Gorsky
was the ex-husband of
Evelyn
. He is 
Charlie
and
Alan
's ex-stepfather. He has an ex-girlfriend named
Christine
, and a 28-year-old widow named
Heather
.

Evelyn reads in the obituaries that her second husband, Harry, has died. They all attend the funeral, including Jake who is excited at the opportunity of seeing a "dead guy." Charlie is excited by the opportunity of a newly single widow, and Alan is just happy to pay his respects to Harry. Evelyn tells her sons a secret: her husband had cheated on her, and she still loved him; it turns out that her husband then cheated on the girl with whom he cheated on Evelyn.
Appearances
Ad blocker interference detected!
Wikia is a free-to-use site that makes money from advertising. We have a modified experience for viewers using ad blockers

Wikia is not accessible if you've made further modifications. Remove the custom ad blocker rule(s) and the page will load as expected.