Gloria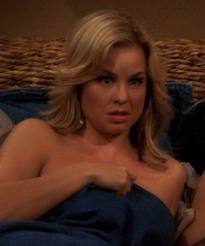 Gloria
is a minor one-off character of Two and a Half Men. She could possibly be
Charlie
and
Alan's
half-sister.
History
Gloria had been on a date with Charlie before, to the point where they both flirted with each other, had a few drinks and eventually made out in his car. In "Walnuts And Demerol" during Christmas Eve, Charlie tried to get rid off his family members and their relatives, so he could get Gloria drunk and have sex with her. However, she arrived when everyone was present at the house, including Evelyn. Evelyn realized that Gloria might be Charlie's half sister (via his father Frank). She stopped Charlie from sleeping with her and called her mother, who explained it to Charlie. Though Gloria revealed that the idea of incest turns her on even more, Charlie stopped her, having found his 'limit' in sexual debauchery, that being incest. Strangely, it is never made clear if she truly is Charlie's and Alan's half-sister, and she is never even mentioned again.
Quotes
"Hey, I'm drunk, not deaf!" - When she heard Evelyn call her a "booze-addled tart".
"Oh, come on, it's not like we're gonna get married and have a bunch of web-footed kids." - Her wanting to sleep with Charlie, despite him telling her that they might be half-siblings.
"Wow...I am so horny right now, I can't believe it!" - When the idea of incest and her and Charlie possibly being half-siblings turns her on even more.
"That's a good plan...except I'm already drunk."- When she overheard Charlie's plan to sleep with her.
"Mom!" - When she saw her mother Dorothy,unexpectedly
"Charlie, I'm gettin' kinda' lightheaded so if you like a girl that moves, you better do me soon." - When she's drunk and wants to sleep with Charlie.
"You can't tell him what to do, he's 34 years old." - When she talked to Evelyn, drunk.