Gail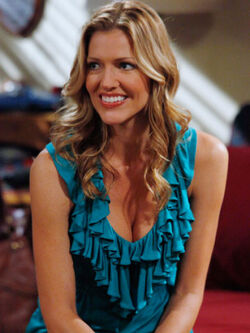 Gail is the former best friend of Chelsea. When she stayed over at the Malibu Beach House she was attracting the attention of everyone in the house; namely Charlie, Alan and even Berta.
Season 7
Charlie first met her when he and Chelsea meet for a dinner. She is impressed by their relationship. She starts crying, revealing that she just broke up with her boyfriend, Brian and he even took their dog, Rufus. Charlie keeps thinking as to how could anyone get bored of her. Chelsea invites her to their house to which Charlie says "Absolutely" (even though he never heard the question). Back at the house, Charlie hopes that he could have a threeway with both the women. (It only happens in his dreams and also in Alan's). Chelsea has to go to work early and leaves Charlie with Gail in the house. Charlie tries to control himself, so that he may not do anything regrettable, which would mess with his relationship with Chelsea. Berta is the one who suggests that Alan has the "capacity" to drive any woman out of the house. Charlie encourages Alan to hit on her. It works and she packs up her things and leaves.
Charlie runs into Gail again at the Pizza shoppe for Jake's new haircut, which he got because of his new girlfriend. He has sex with her, but then learns that Chelsea is having problems with Brad. Charlie later meets Chelsea for coffee and tells her that he slept with Gail, causing Chelsea to angrily storm off. She later comes round his house to apologize but again storms off after thinking that Gail is still there in Charlie's bedroom.
Season 9
She is present at Charlie's funeral and reveals that Charlie gave her an STD.
Notes
Alan is attracted to her but she doesn't reciprocate his feelings.
She and Chelsea were college roommates.
It's hinted at various times, by Berta and Charlie (even revealed in Charlie's dreams), that she and Chelsea have practiced kissing together in college.
Ad blocker interference detected!
Wikia is a free-to-use site that makes money from advertising. We have a modified experience for viewers using ad blockers

Wikia is not accessible if you've made further modifications. Remove the custom ad blocker rule(s) and the page will load as expected.