Fernando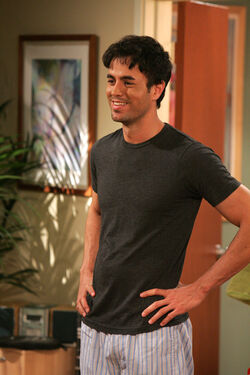 Fernando is a handyman appears once in Two and a half Men, in the Season 4 episode "Anteaters. They're Just Crazy-Lookin'". Enrique Iglesias guest stars as him. All the women who come to Charlie's house all are charmed by Fernando. Alan hired him to help fix the railing on the deck. Charlie ended up firing Fernando (before the job was finished) for going on a date with his girlfriend. Fernando was last seen painting some molding for Berta.
Appearances
Ad blocker interference detected!
Wikia is a free-to-use site that makes money from advertising. We have a modified experience for viewers using ad blockers

Wikia is not accessible if you've made further modifications. Remove the custom ad blocker rule(s) and the page will load as expected.