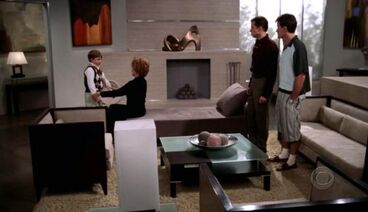 Evelyn Harper's House is a setting on the show (Two and a Half Men). The house is owned by Evelyn Harper. Her sons Charlie and Alan visit her occasionally. Alan temporarily lived with his mother shortly after Charlie's sudden death and funeral but Walden invited Alan back to Charlie's beach house after buying the Malibu Beach House. The house is not seen in Season 10, due to Holland Taylor's absence, but was mentioned a few times.
Seasons
Ad blocker interference detected!
Wikia is a free-to-use site that makes money from advertising. We have a modified experience for viewers using ad blockers

Wikia is not accessible if you've made further modifications. Remove the custom ad blocker rule(s) and the page will load as expected.