Danielle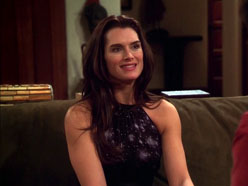 Danielle Stewart is a woman that was set up on a date with Alan by Charlie.
History
Danielle has a partying past that was mentioned to Charlie as, "I've slept with alot of guys and even a few women and even with couples". She was set up on a date with Alan by Charlie, with the intentions of Alan moving out and living with Danielle. Danielle dated Alan believing he would be better for her than her past boyfriends. After drinking some wine she tells Charlie about her slutty past, to which Charlie decides he wants to be with Danielle now. The brothers begin to fight over her, and her, while drunk, suggests that they have a threesome. Charlie considers it for a moment, but in the end, like Alan, turned it down. As she leaves, she slips on Jake's skateboard. She has not been seen since.
Ad blocker interference detected!
Wikia is a free-to-use site that makes money from advertising. We have a modified experience for viewers using ad blockers

Wikia is not accessible if you've made further modifications. Remove the custom ad blocker rule(s) and the page will load as expected.