Colleen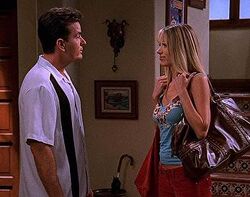 Colleen (played by Natalie Zea) appeared in the episode "We Called It Mr. Pinky".
Story
After a night of sex with Charlie, she says that she is in love with him, Charlie then merely says "Thank you." This lackadaisical attitude of Charlie annoys Colleen. However, later in the episode they make up.
Appearances
Ad blocker interference detected!
Wikia is a free-to-use site that makes money from advertising. We have a modified experience for viewers using ad blockers

Wikia is not accessible if you've made further modifications. Remove the custom ad blocker rule(s) and the page will load as expected.