Cheryl Ann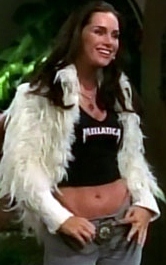 Cheryl Ann is the eldest daughter of Berta, the niece of Daisy, the mother of Prudence and the sister (possibly half sister) of Naomi.
History
She's mentioned earlier in the episode by Berta, saying how she shouldn't trust "the judgement of a woman who's off selling boot-leg Metallica T-shirts at a Monster Truck rally".
She appeared in one of the final scenes of "Camel Filters And Pheromones" in Charlie's house when she went to look for her daughter Prudence to prevent her from marrying Freddie. She calls Freddie a "Little Snot-Bubble" and told her daughter, "Give me a break Prudence, you're sixteen years old and your hormones are doing the thinking for you". By the time she noticed Charlie and wanted to give him her number, Berta grabbed her and Prudence and took them.
Appearances
Ad blocker interference detected!
Wikia is a free-to-use site that makes money from advertising. We have a modified experience for viewers using ad blockers

Wikia is not accessible if you've made further modifications. Remove the custom ad blocker rule(s) and the page will load as expected.