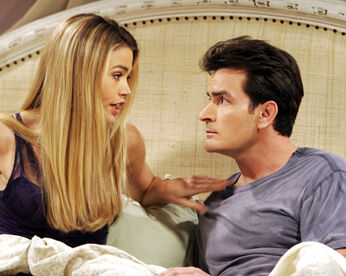 Lisa was the first woman whom Charlie fell in love with. She left him because of his lifestyle and how he was.
Season 1
She first appeared in "Merry Thanksgiving" when she told Charlie that she needed to tell him something important over coffee. Charlie thought that she would give him another opportunity but, Lisa told him that she was going to marry. Hence, Charlie tried to show her that he's a family man, inviting her and his whole family to celebrate Thanksgiving to conquer her. But the plan did not work and finally he said goodbye to her congratulating her on the wedding.
Season 2
Lisa reappeared in the episode "Yes, Monsignor". She told to him that she was divorced and had a daughter. After he became fond of Lisa and her daughter, he got to earn her respect and returned to being significant others. But soon, Charlie began to tire of her daughter (because he kept bothering him and Lisa when they had sex) and ended their relationship.
Ad blocker interference detected!
Wikia is a free-to-use site that makes money from advertising. We have a modified experience for viewers using ad blockers

Wikia is not accessible if you've made further modifications. Remove the custom ad blocker rule(s) and the page will load as expected.