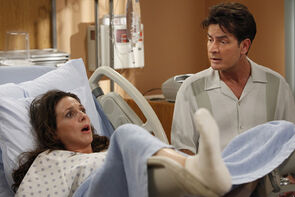 Charlie and Judith are in their own little way friends, but neither of them would ever admit it.
In "If They Do Go Either Way, They're Usually Fake", Judith gets worried when Jake draws the tattooed buttocks of a female surfer friend of Charlie's, who walks around his place half naked. Judith and Charlie become friends. Charlie wants to sleep with her but she only visits his place to shower after surfing. Alan feels concern for Judith when she befriends the surfer girl. Jake begins to learn from Charlie about fake and real boobs and doesn't stop comparing them both.
In "Baseball Was Better With Steroids", Judith goes into labor with Milly Harper-Melnick. Though when Herb gets lost in the hospital, Alan must coach her through child birth, instead he starts making out with Melissa in the closet. When Charlie finds Judith in the hospital, she makes him stay to coach her through child birth instead of Alan or Herb. 
In "Nice to Meet You, Walden Schmidt", she appears with Herb at the funeral on the left side of the church. When Alan, Berta, Jake, Judith, Herb and Evelyn sit at the beach house moaning over Charlie, she looks sad about Charlie's death.