Beverly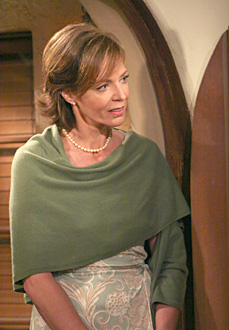 Family members
3 Unnamed Ex-Husbands
1 sister
Beverly is a woman who Alan Harper met on a dating site and also dated.
History
She was a woman whom Alan met on a dating network. To impress her, on the network, he said that Charlie's house was his. But after talking on the terrace and realizing that she has some issues of divorce, he confessed to her that the house was Charlie and when he was in middle of a divorce and had nowhere to go, he hosted him. Beverly doesn't get angry because her problems were worse than Alan's and decided to go along with the date. Finally they had sex. But when Charlie went to talk to Alan about Rose moving to London and that he erred, he saw that Alan was tied hand and foot on his bed. Alan said that nothing was wrong, that everyone "makes mistakes".
Trivia
She's exaggerates her height as 5'13".
She has a sister who's a crack whore.
She's been dumped eight times.
Her eight exes her (1) married, (2) married, (3) gay, (4) parole violation, (5) gay and married, (6) deported, (7) returned to the priesthood, (8) woman in a man's body, in that order.
She appears to have a thing for Sadomasochism, after she finished sleeping with Alan, she left him in lingerie, and chained hand-to-feet to the bed.
Ad blocker interference detected!
Wikia is a free-to-use site that makes money from advertising. We have a modified experience for viewers using ad blockers

Wikia is not accessible if you've made further modifications. Remove the custom ad blocker rule(s) and the page will load as expected.