Ava Pierce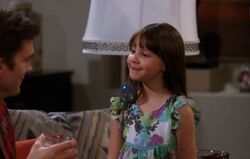 Portrayed by
Taylan Wright
Ava
is
Zoey
's seven-year-old daughter. She is first mentioned during
Walden
and Zoey's first date, in "
A Fishbowl Full of Glass Eyes
".
The Duchess of Dull-in-Sack
She makes her first appearance in "The Duchess of Dull-in-Sack", when Zoey urges Walden to leave her house, because she does not want Ava to see him. She is also shown, later on, to be quite self-aware. She knows about the problems between her parents and she also knows she is of royal descent, calling herself "Queen Ava". Ava also has a stuff animal called "Winston" and she seems to call Walden "Sir Schmidt" or just "Walden".
Mr. Hose says "Yes"
She spends spring break at Walden's beach house with her mother, draining him of energy from all the activities she wants to do. She even dislikes all the kinds of breakfast he makes for her. This leads Walden to wanting to end things with Zoey as he cannot handle Ava.
Behind the scenes
Ava is portrayed by actress Talyan Wright, who is actually American. The producers and directors encouraged her to mix her excellent British accent with an American one to reflect the fact that she goes to school in America even though both her parents are British. Sophie Winkleman (a royal in real life) and Matthew Marsden helped her mix the two accents.
Trivia
Ava is seven years old as related in "Mr. Hose says Yes" during a conversation Walden has with Berta.
When she was first mentioned by Zoey she was stated to be five years old but she was having her ninth birthday in her last appearance, meaning she aged four years in one season.
Appearances