Angie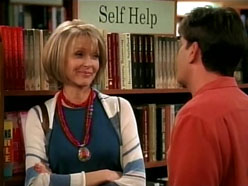 Angie
(played by
Susan Blakely
) is an author and Charlie's ex-girlfriend. She was the first older woman Charlie dated since high school.
History
Angie is the author of a popular self-help book Charlie wanted to read. They met in a bookstore where Alan was getting a book for Jake's class project. Charlie begins dating Angie, whom Alan is also attracted to. Charlie contacted his therapist Linda Freeman, whom believes Charlie is really using Angie as a surrogate mother since Angie is warm, affectionate, and Charlie is fighting with Alan to get her attention. Charlie eventually meets Angie's son Jeremy and his fiance Tricia. Tricia once spent a weekend in Las Vegas with Charlie and realized she still loved him. She tells them about Charlie and breaks up with Jeremy. Jeremy was devastated and had a mental breakdown and tried to drink bleach. Angie became a bitter alcoholic that neither Charlie nor Alan wanted to see again.
Appearances
Ad blocker interference detected!
Wikia is a free-to-use site that makes money from advertising. We have a modified experience for viewers using ad blockers

Wikia is not accessible if you've made further modifications. Remove the custom ad blocker rule(s) and the page will load as expected.