Alexis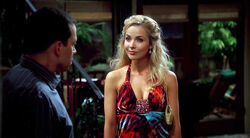 Alexis is a prostitute that was set up by Charlie to Alan.
History
She appeared in the season 5 episode "Winky-Dink Time". When Alan thought that he wanted to go directly to sex, he had the idea to call a prostitute asking help to his brother. But when she came, Alan goofed when she wanted that Alexis were "honest". That is to say, he doesn't wanted that she said: "ah baby, you really turn me on!" very beginning, because in his relationships with other women that did not "happen so fast". So finally, she go away because Alan doesn't believe "that he's the biggest she's ever seen", returned the money to Alan and told to him that does not call her ever again.
She reappeared in "Fish in a Drawer", when many prostitutes were arrested, she saw him and said: "hi Alan". (While all other prostitutes had said hello to Charlie).
Ad blocker interference detected!
Wikia is a free-to-use site that makes money from advertising. We have a modified experience for viewers using ad blockers

Wikia is not accessible if you've made further modifications. Remove the custom ad blocker rule(s) and the page will load as expected.