Alan
and
Herb
are considered friends, much to
Judith
's dismay.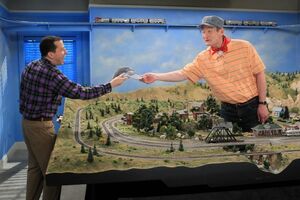 In "Enjoy Those Garlic Balls", Alan befriends Herb (Greg in this episode), after Charlie points out if Judith remarries he'll be off the hook for alimony. Alan snaps Greg's neck. Despite, the two later become friends.
In "Fart Jokes, Pie and Celeste", Alan and Herb start hanging out as friends, without Judith's blessing. When Judith says they caan't hang out anymore, Alan sneaks to the back window of Judith and Herb's bedroom and reunites with him, until Herb falls on the ground and Judith busts them.
In "The 9:04 From Pemberton", Alan moves out after a fight with Walden, and moves in with Herb. Walden leaves Herb messages for Alan, and although Herb says he'll give Alan the messages, he does everything possible to keep the two away from each other, but after Walden comes to take back Alan, Herb is desprate to keep Alan living with him, offering a TV. Despite Herb's generosity, Alan moves back in with Walden.
In "Big Episode: Someone Stole A Spoon", Alan, Herb and Walden start partying, but after Herb tires them out and makes them hungover, Alan and Walden kick him out. They start worrying about him when he doesn't return their calls. They find Herb checked into a hotel, and to save their friend, they called Judith to reunite with him.
Ad blocker interference detected!
Wikia is a free-to-use site that makes money from advertising. We have a modified experience for viewers using ad blockers

Wikia is not accessible if you've made further modifications. Remove the custom ad blocker rule(s) and the page will load as expected.